A Date With Miss Clarity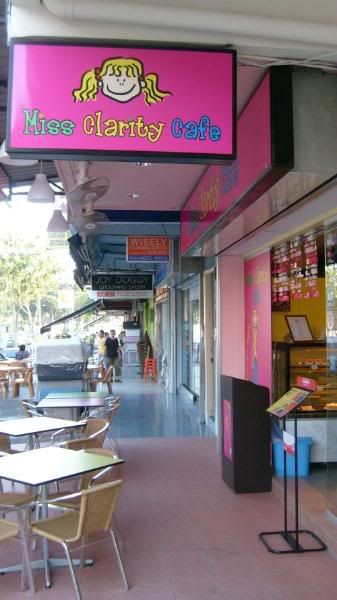 You can't miss this pink prominent signboard of Miss Clarity Cafe if you are heading down to Liquid Kitchen in Thomson for chill out session. This is the sub branch of Clarity Cafe which was opened few months ago, business wasn't as brisk as compared to it's main branch located in Purvis street due to it's Geography location. Shouldn't we expect higher standard from the food since there's aint many customers around ? It was previously featured on the straits time and was well rated.
Rule number 1 : Never expect better quality servings even though there aren't many customers.
Rule number 2 : Don't trust commercial reviews, they are not reliable.
The girls love the pinkish, the children love the decoration, the guys would never want to hold a gathering in such a sissy place. It was my idea to settle for something different from the usual HK cafe, bla bla bla steakhouse or family restaurant. Looking at the kiddish decals pasted all over the colourful walls, doesn't that make you feel young and happy ?
The wall tells a story of your childhood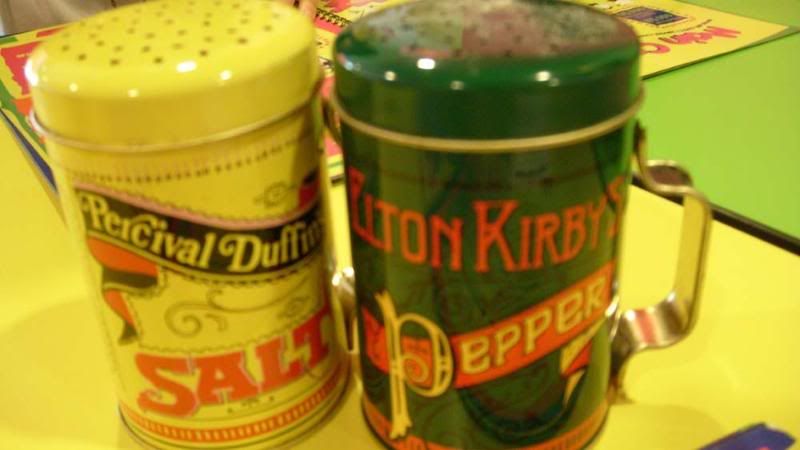 Written below : where happy people meet.

The main course are mostly priced at $10 add dollars except for premium stuff like Wagyu burger or Salmon fillet. Top up $3 dollars that include additional soup of the day, drink and dessert. All the price stated in the menu are net price so you won't be paying for gst or service charge. I demanded everybody to order different dishes so that i can steal bit of portions from them heh heh ... and seems like everyone was thinking the same ... =)



Soup or Salad can be chosen
My friends were amused when i whipped out my camera and started taking photos of the food. They knew i was going to use it for blog, wonder if anyone's is reading it right now hmmm =)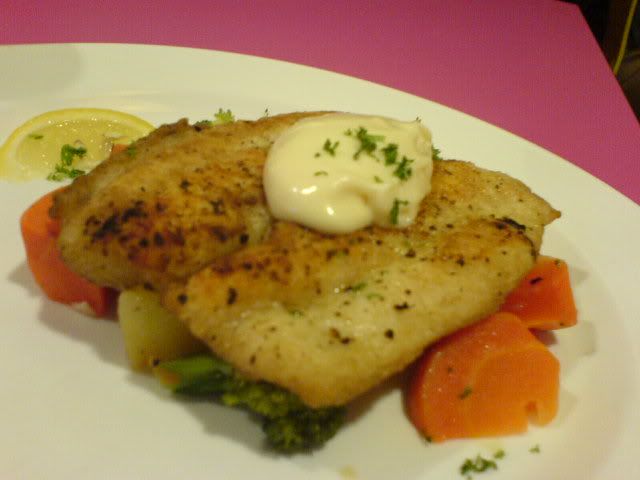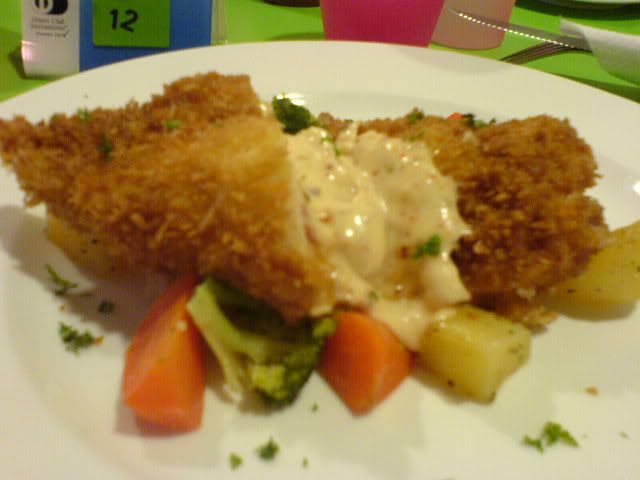 Earlier on i said that yucky food don't deserve to be blog, sorry i retract back my words. Either the very good one's or extremely horrendous food should be put up. Posting up bad food serve as a caution to the rest who have yet to try to think twice. Give credits for them making the main branch a hit, criticize them for not following the benchmark set. Why famous food always tend to drop in standard after much publicity, they are really taking ignorant customers for granted =( Botak Jones and my last night supper at Chong Pang Nasi lemak are fine examples of lousy food yet attracts long queues. Sillyporeans probably doesn't even have a clue where to find the value for money food, trusting main source reviews to bring their families to dine, newspaper and tv are powerful propaganda tools, i only trust ieatishoot :) (A food blog)
What is wrong with Miss Clarity ? Only 1 dish passed out of 5 from my judgment.
- Meat taste was bland, not marinated.
- The cheese, rice and chicken doesn't not blend at well, call it rice with chicken cheese instead of baked rice.
- Weakness of frozen food exposed, the fried skin and meat didn't hold well, they were falling apart before i operated on it, not fresh, no taste !
- Carrots and potatoes were abit hard, i preferred them to be chewy state.
Sorry my bad for recommending Miss Clarity as the chef, she hasn't mature enough to cook for us, give her some more time maybe she will improve... next, miss !
Meet the 5 food judges.

Stairway to the carpark look like hong kong narrow ally.