The Secret Village
Sorry for the delay of update because lately my mind was in a whirlpool, still i must fulfill my duty as a blogger to complete this post when so many eyes are looking at this column. I have a reputation to uphold, that is to produce an enticing post that would satisfy my loyal readers (though not alot), in order to do that i must ensure that i'm in the rightful mind of blogging (just can't concentrate like in the past) , and lately the weather has be unforgiving making me feel lethargic.
Here i am again writing the memoirs of a crazy explorer, despite feeling the tiredness of going to Tampines --> Sentosa -->Yishun Dam --> Jalan Kayu --> Bedok --> Tampines in the middle of the night. I put myself in yongping shoe and hail his effort for driving down and up from yishun to tampines to meet his love ones.
All of my siblings except me had the opportunity to stay in the Kampong before moving in to a HDB estate. I can only take a trip down to memory lane at Lorong Buangkok to experience the simple life. It is the last standing kampong which still exist in Singapore, the culture of kampong will certainly be lost once this place is overtake by the government in the future. There is no way we can stop the rogue organization to rule the place, the only thing we can do is to take picture to preserve it.
Entrance at Yio Chu Kang Road

Not the true kampong here

Welcome sign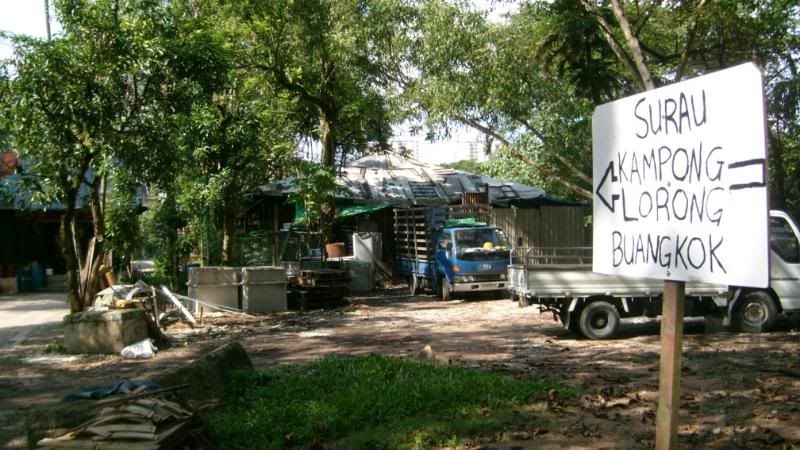 With the fast pace of development around the area, it's no secret that the government wish to acquire this piece of fat land, put it up for mega organization for bidding to construct posh condos. Most of households refuse to accept the million dollar carrot bait, this shows that this place holds a really special place in their heart.
Think about the days where no computer exist, no computer games to play yet there are plenty of activities to keep the children occupied like marbles, catching spiders, hide n seek and so much more. Sometimes my mum would reminisce the days in the kampong compared to the modern days of HDB, simple yet the experience is so priceless.
Walk a little further in and that's where truly the kampong lies, no tar roads, lamp posts, PUB canals etc... You will be greeted with swarms of mosquitoes and muddy tracks, the price to pay for getting closer to mother nature, fair deal.
Over here you would not see kids running around in the broad day light on the weekend, aunties stay in the house watched television, ah pek sit back and fanning himself on a grandfather chair. There's hardly a single walking soul around the village, it's so laid back that we disrupted the peaceful atmosphere.
Self deco mailbox

Visit the kampong while it's still alive, it will be something once lost never to be able to recover. It won't be surprising that in the future kampong will be forgotten as what it was many years ago, who knows the word "kampong" might even "extinct". At least i am still able to relate my one time trip kampong to my children next time, hopefully this blog would still be online by then !
My faithful K750i serve me relentlessly for 2 years and it started to show signs of failure in the joystick and charging port. K770i will take over the job of capturing important moments but the color produced are less superior than K750i, budget phones really cut corners one =/ W910i belongs to my friend, not a very impressive phone in my opinion too.
It's a long journey since the days of strictlytechno till today, i don't think i will have the stamina to carry on much longer. It's really time to settle down and consider about the future, this weekend i will do something alternative instead. The fast-paced metropolitan living is driving people nuts ... invest your cpf before the government freeze your money in march, find lawrence now haha !
Labels: kampong, lorong buangkok