Little Guilin Park
It was a rare typical lazy sunday with bright sunny sun. I thought it would be a good opportunity to capture some of Singapore valuable asset, the mother nature. Looking at the skies, i reckoned that the sunshine might not last till mid noon so quickly i asked my shutterbug friend to join me for sightseeing. Going to town is the last place i wanna be, surrounded by so many people makes me headache, relaxing at secret paradise is much more enjoyable, though the humid weather wasn't comfortable at all.
The location was a well concealed one, you won't be able to see it from Mrt or Mainroad unless go through a passage around the stadium. The sky was starting to show signs of rain, and it did rain unexpectedly later...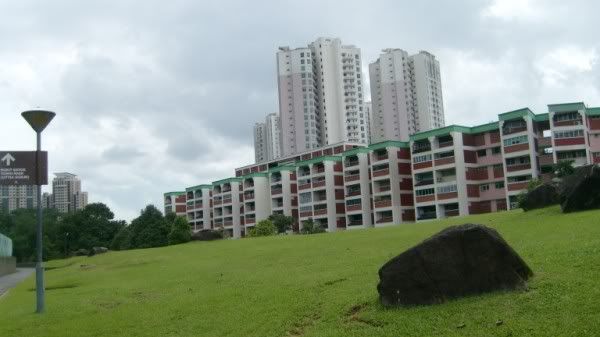 From the carpark walk round the stadium, what's waiting for us
after this narrow pathway

Is Gombak team still in the S-league ? The last time i watched a s-league match was 1997, soccer hooligan was still common that time, pitch invasion to hit the referee was common. Still remember Nelson was "arrested" by police and took photo of his back view for inappropriate conduct.
After covering for 100 meters, welcome to Bukit Gombak trail, more famously known as Xiao Guilin
小桂林
. It actually resembles a place in China - a granite rock sitting within a lake.
Before i could settle down to take pictures, distantly i heard the sound of rain approaching. I guess this is the only park in Singapore without a shelter built ! No choice take cover under the dense forestation and they done a pretty good job covering us from the heavy shower.
They enjoyed
甜蜜蜜
in the rain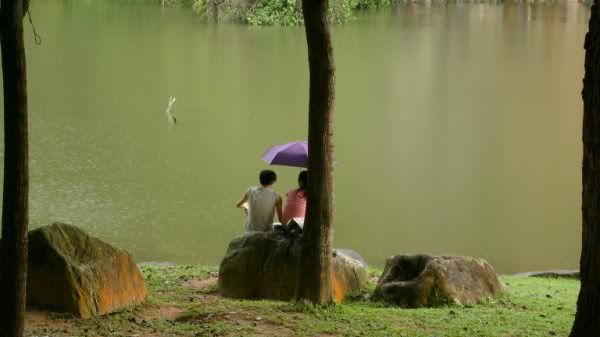 15 minutes later the rain stopped, time to resume my work here... There's no blue sky after the rain, that's because the second rain will come shortly. Made the mistake of over exposure on the skies because focus point is the hill. The correct way should be focus on the sky then bring down to the subject to prevent over exposure...
Photoshopped with blue sky, but i don't like post process photos too much

It's not advisable to cross beyond the sign which we did anyway. No risk no gain !
The lake is a mirror image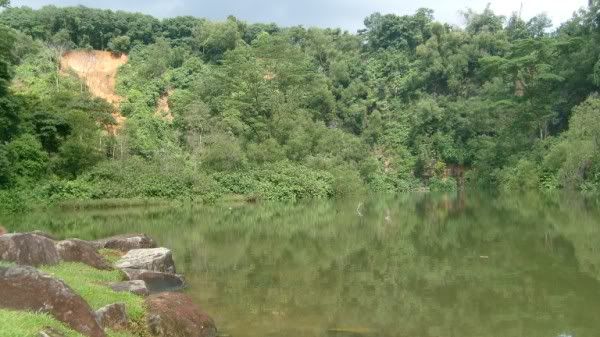 青蜓点水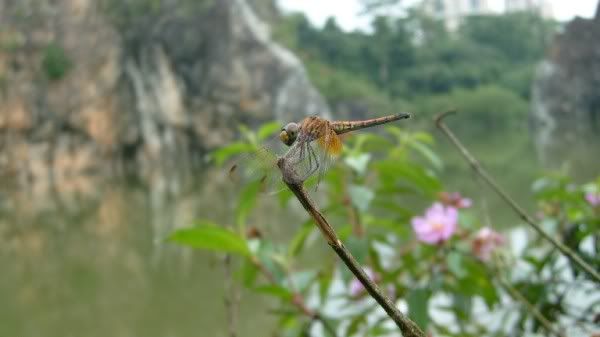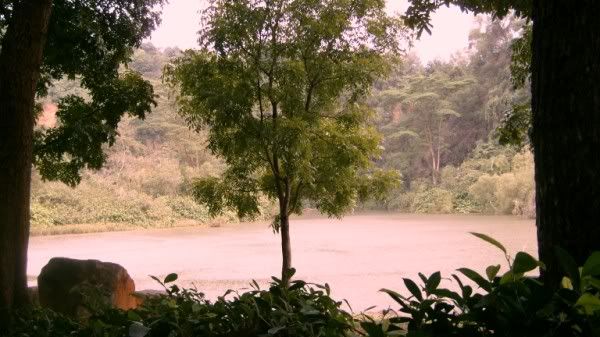 The humid weather really dampened my mood for shooting, felt like just quickly get out to have a tea break. In the whole place, there's only a China couple and Malaysian couple, singaporeans aren't that "stupid" to come here for dating huh ? Kena rain, mosquitoes bite, ants crawling, sitting on stones or grass patch, who would want to suffer ?
Before we could proceed to next destination the second down pour came again much more heavier than the first. Seek shelter at the stadium and saw an uncle in the rain out there alone ...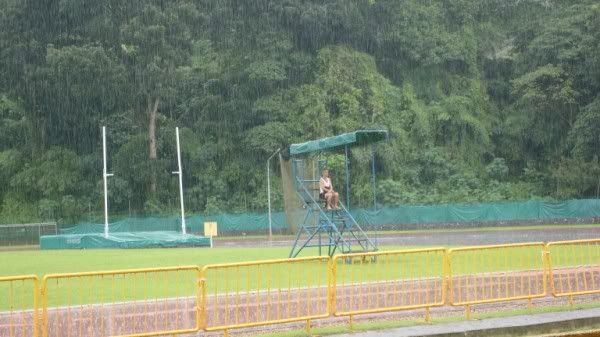 Had coffee and kaya toast at Sixth Avenue high class coffeeshop, even the auntie spoke to us in angmoh one, i tried talked to her in chinese, she replied angmoh, i talked hokkien, also angmoh replied lolx. Drinks finished still asked wanna refill or not, really thought we were ah sia kia staying there is it ? Just driving around the area to see how the richest singaporean live, not surprising but seeing is believing.
porsche, falali, lotus, z4 etc ...

Not gonna blog about it to make you feel inferior, that's about it. Will blog again soon !
Twinkle little star MTV, more pics coming up shortly ...