Bedok Hauntings
Bedok seems to be a very old place name, the number of times i have been here can be countable by 5 fingers. Bedok made the most impression on me is having ghost stories told in the forum, the victims who drowned in Bedok reservoir, suicide case in HDB, hidden cemetery beside terrace houses. To most people the landmark of bedok is undoubtedly the Bedok 85 market, perharps the busiest market you can find in the wee hours. It's a good place for us for AAR (after action review) to replenish our energy after our exploration too.
The first destination was just a stone throw away from the market, block 99 has a terrifying story behind it. However there were no reliable sources to prove that the suicide case happened before, i can only place my trust on the information on spi webby.
At Bedok North Avenue 4, block 99 ( Singapore ), there used to be a famous suicide case where by the boy mother threw her 3 year old sleeping child down the 25th floor. After which she fell to her death too. Many years have past, till today, the present, many people could still hear a boy and a woman laughing in the middle of the night!!
The story might be frightening to some, you have been warned.
Read the story here.
http://www.spi.com.sg/spi_files/haunted_bedok/main02.htm
The black cats didn't seem to welcome us with that stare

On the way up to the highest level

As we expected, the place looked relatively clean after the flat had undergone an upgrade. However it was quiet and windy, the wind seem to be filled with grief. All doors were shut and we could hardly figure out if there's any activity in it, there were people occupying the flat judging from the shoes laid outside.


When we were young, we spit saliva to see
who's reaches the ground level

An eerie portrait and mirror in one
of the vacant unit
There wasn't any noise of television or music, let alone the crying of mother and son. Not to make my trip wasteful, i took a nightshot of the scenery using timer on a steady surface. As first it seems to be like a normal urban shot of the neighborhood until i noticed something in the sky.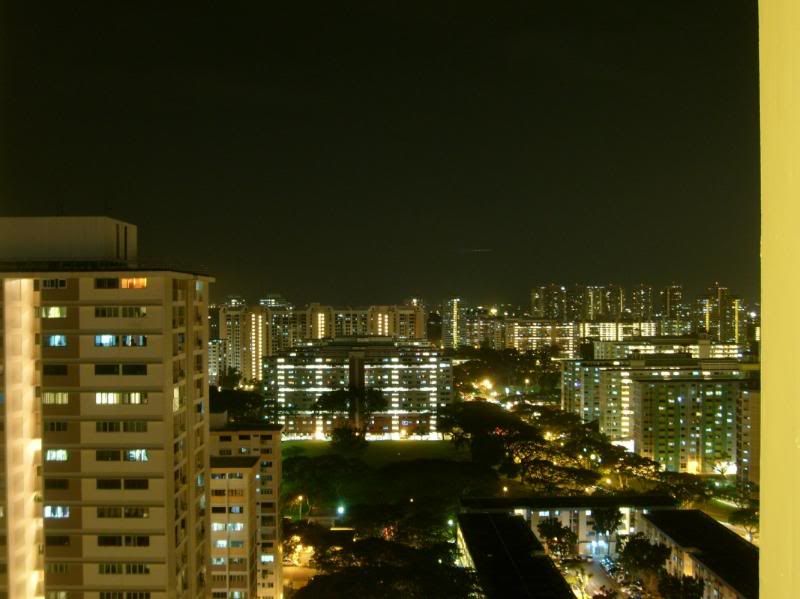 Observing the sky carefully you will noticed a white trace of dots. Was that a plane or an airship ? When i took the shot i did not notice any thing awkward until i zoomed in to it, instead of ghost i caught "ufo" image at block 99.
We had our halftime break at the Bedok Market before proceeding to next destination. They served really delicious BBQ chicken wing accompanied with the nicely blend chilli, heavenly ! Bedok market 85 is just across block 99, i don't see any reason why people should avoid buying that flat based on an urban legend that hovered for donkey years. Sometimes ignorance is bliss, it's better not to know the past and live peacefully.

Bedok South Block 70

I had previously been to this place with the API tour, today was a revisit since we were in bedok anyway, kill 3 birds with 1 stone. My gang haven't been to here before so i took them for a short guide in the dark with no torch light, soaking our feet in wet grass patch as we all wore slippers.

Restricted access to block 70
What is the reason ?

Enter a brand new world beside the block
The spiritual activity was considered pretty high.
Unscattered everywhere, becareful not to kick any of those !
Due to the heavy rain for the past few days, the terrain wasn't making easy for us to navigate, especially with the only light source from my handphone torch. Seng wasn't feeling comfortable with the atmosphere as well, causing him a little giddy. I decided not to venture any further and call a halt to the exploration. During the break at the void deck seng told us that "they" don't incinerate but wrapped around with white cloth and buried. Ask me if they will jump out from the soil and chase people like those in chinese film i'm not sure.
Beautiful flower offered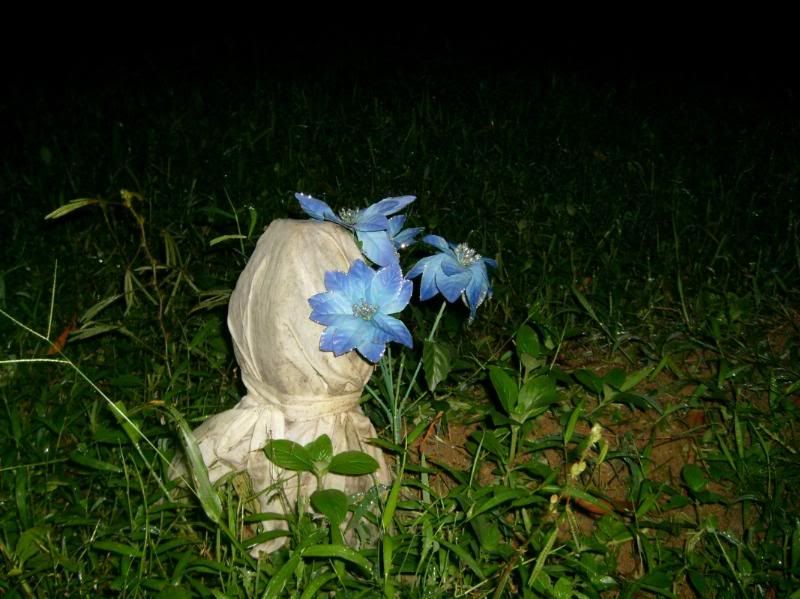 That concludes our night of adventure @ bedok with the crew, yp, seng, lawrence. Thanks yp for providing the ride this time round too, so i could take pictures without fearing of getting into accident. Festive season is just around the corner, tomorrow shall go to town to appreciate the beautiful lightnings along the streets.

The Singapore flyer has been lighted up too !