Secrets of Bukit Timah Nature Reserve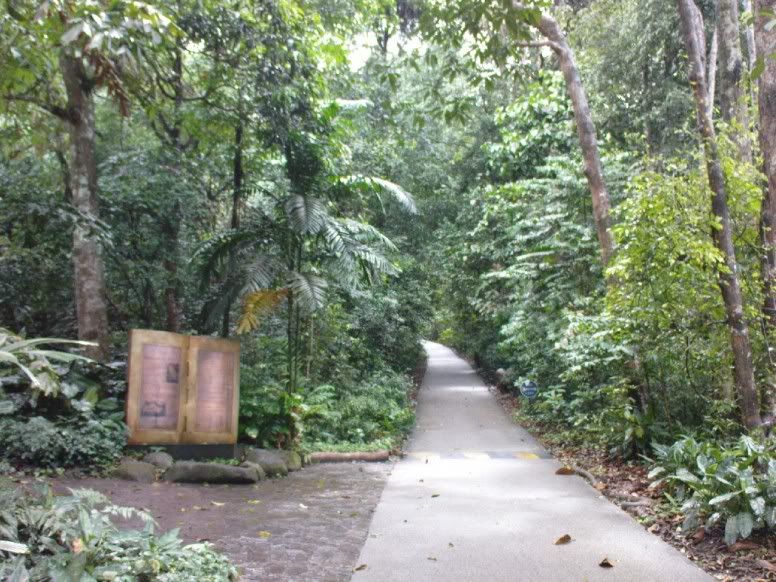 Our outdoor adventure resumed on a wet afternoon when we thought that the morning storm would spoil our plan to explore the secret hideout in Bukit Timah Hill. Officer lala will lead us to the spot which he discovered during schooling when he attempted to steal a treasure from the forest, and he succeeded in doing so. What exactly is so interesting over here apart from hiking numerous steps and slopes ? Pay carefully to the surrounding and you might just be rewarded to catch rare sightings of native animals, be a bit adventurous for a chance to hit the jackpot !
Welcome to the national nature reserve icon, step into Bukit Timah Reserve and you will experience nature in its pristine form. Just for your information, the number of tree species growing a a mere hectare if the Reserve is more than the total number of tree species in all of North America. If you haven't been to this place before then you ought to be shot in the chest, a lighter penalty would be a smack on the ass. The first hinder to conquer Bukit Timah no doubt would be the ultra steep slope at the entrance which i reckon would turn off many people including me yeah. It almost 45 degree inclined and you can sure there would be lots of cursing and swearing along the slope journey.
To the 3 young men like us who went through straineous NS training, it was simply a piece of cake to reach the top (panting profusely, NS training was donkey years ago seems like). Our officer observed around to look for the checkpoint which will lead us to the first destination. We hiked off track to spot the sign board located deep inside the forest where it cannot be viewed from the main track.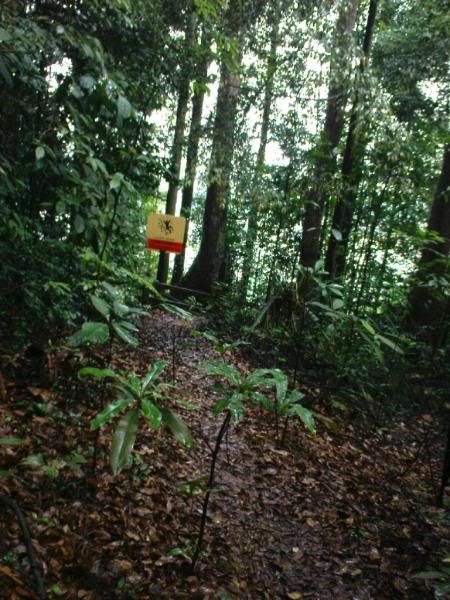 Despite the warnings from the authority, we went against it to go near the cliff. Any slight carelessness would result a fall from the cliff at the height of 100 meter, safety was absolutely the main concern at that moment. At any one time only 1 person was allowed to stand near the cliff, the person right behind would be providing support by holding his pants. That's the closest we can go although we wanted to be hero like in the movie Cliffhanger.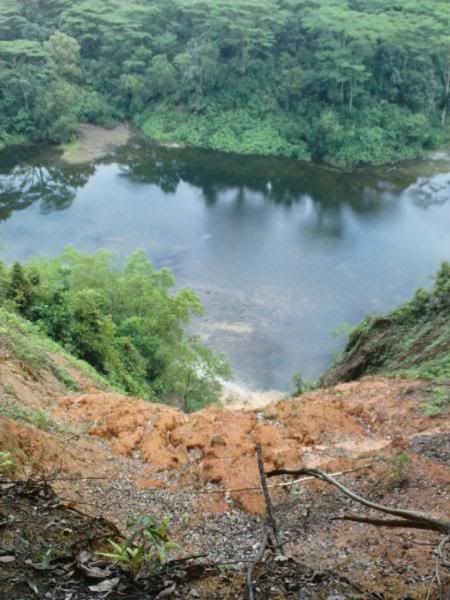 Committing suicide is not an option
Aerial View from the cliff
After a close shave with the cliff, we proceeded to the next destination with tons of stairs along the way. Upon reaching checkpoint number 2, we steered off track again for the main highlights of the day;
Cryptocoryne xtimahensis
. There's nothing wrong with my spelling and you are reading English, read on to find out what on earth is that xyz thingy.
lalala aka tony leung is the observer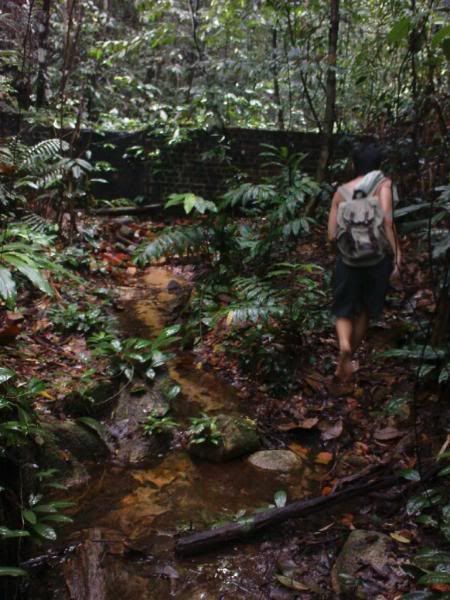 At last our efforts not wasted after slogging out feet in the muddy ground, the ultimate treasure awaits us in it's own private corner. Introducing Cryptocoryne xtimahensis which can only be found in singapore. It grows near the top of the hill in a very tiny stream in an artificial pond which is formed by damming the stream. Another interesting about this crypt, is it is never found fruiting.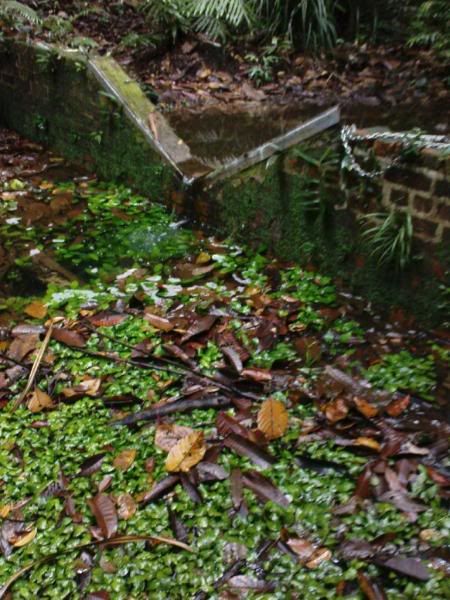 The endangered water lily emitting mystic aura power
that heals even the most stubborn disease, joking lah

It would be a waste if we don't soak our feet in the cooling nature spring water. Combining the effects of Pedicure and Fish Spa, this is the best thing you can ever get in nature reserve, free of charge ! Take off your shoe and feel the soil of mother earth, experience is priceless.
Fish spa is outdated, Shrimp Spa is the new trend !
Ouch the pincer hurts.

This little shrimps will crawl to your feet and do therapy for you

When we were done with the spa, it's time to move on and leave the world we called it little paradise. All the handsome boiboi gathered for a group photograph to serve as a memory that we accomplished something that nobody had done before heh.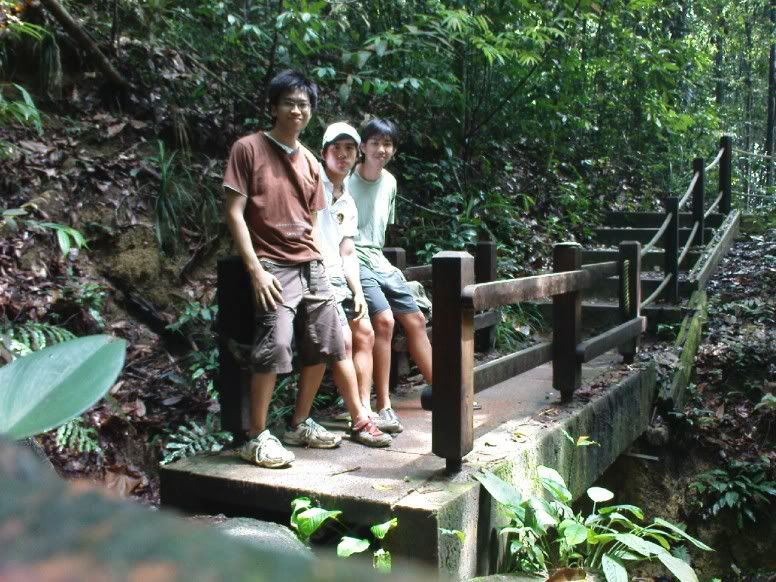 How can go home empty handed, must at least
kio some mango for dessert right !
The fun is finally coming to an end, there will be a major change in my lifestyle. Like i always said that my blog future is uncertain, looks like the final nail will be hammered soon. Those who know me don't have to speculate too much lah, maybe i will shed some light on the next post. Ok i will be attached to Western Australian Turf Club in Perth to work for 1 year, sounds like a pretty exciting opportunity huh.